A note to our customers: This post is not legal advice. All information and content contained here are for general informational and entertainment purposes only. Information is accurate to the best of our knowledge, but it may not reflect the most up-to-date legal or other information. We suggest that you always do your own research to ensure the validity of information on our blog.
---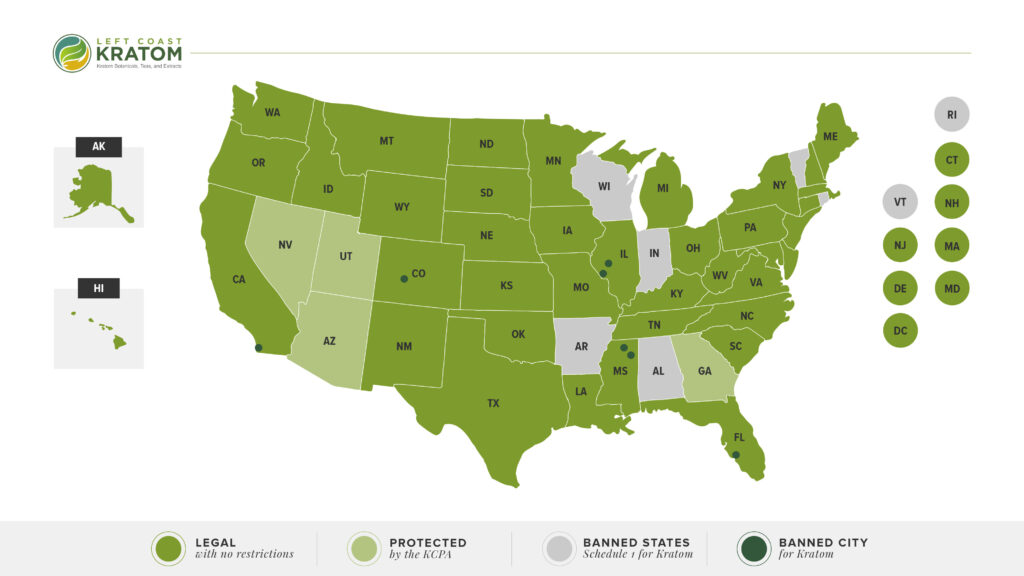 Here in the United States, kratom is sold as a tea product or a dietary ingredient that many people enjoy and find to be beneficial for their lifestyle. There are dozens of kratom vendors and a large community of consumers who feel their lives have changed for the better thanks to kratom.
Unfortunately, these things don't necessarily mean that kratom is protected by laws and regulations across the country. Due to bad publicity, adulterated products from irresponsible vendors, and misinformation campaigns that have gained traction over the past few years, some counties and states have made moves to ban kratom.
As avid supporters of safe, lab tested products and responsible kratom consumption, we don't want to see this happen. Many consumers worry about whether or not they are allowed to try kratom where they live, and the legal status of kratom is often changing in many areas.
Today, we'll help you learn how to find out if kratom is legal where you live as well as other important legal information that consumers should be aware of. You'll also learn what you can do to ensure that this botanical stays legal in the US.
Federal Laws
At this time, there are no federal laws or regulations in place about kratom and its use in the US. Kratom vendors sell kratom to their customers as a dietary ingredient and must make it clear that the FDA has not reviewed the product or any claims made about it.
Despite the fact that there are no laws currently in place on the federal level, the FDA and other organizations have put a lot of pressure on law-making bodies to ban kratom. The FDA's arguments have been widely debunked; in reality, this conversation is dominated by misinformation and a lack of current research about kratom.
For now, kratom is safe from further legal restrictions on a national scale, but there are also no federal regulations in place to help protect consumers or vendors.
State Laws
Like many issues, kratom needs to be regulated on the local and state. Currently, marijuana and CBD regulations are handled on a state-by-state basis, and we expect that any kratom-related rules will initially be done in the same way.
The American Kratom Association is the leading advocacy group for kratom regulations and protections at this time. This nonprofit organization has done wonders to ensure the safety of kratom users across America, and their work continues to be impressive.
Your State's Rules
Kratom is legal in most states across the continental United States. However, Kratom is currently banned in the following six states:
Alabama
Arkansas
Indiana
Rhode Island
Vermont
Wisconsin
In more positive news, several states have now adopted the Kratom Consumer Protection Act, legislation that both protects consumers from adulterated and misbranded products and protects kratom from being banned. This bill passed in 2019 in Arizona, Georgia, Nevada, and Utah. The AKA is working hard with vendors across the country to introduce the KCPA in many more states, including here in Oregon where we're located.
The Kratom Consumer Protection Act mandates that kratom vendors comply with Good Manufacturing Practices including testing their products with an accredited lab. With reasonable regulations in place to keep consumers safe, legitimate and responsible kratom vendors will be able to continue to market their products, and consumers will have the peace of mind of knowing that their kratom is safe.
To find out what the status or ongoing bills about kratom in your state look like, you can check out AKA's interactive map. This map gives detailed information about the state's rules, and you can follow through on the page to read more details about the status.
What You Can Do
As you can see from the map on AKA's website, kratom's legal status is very different depending on where you live. While AKA would love to meet with the FDA to discuss the future of kratom in this country, the FDA has ignored their meeting request for more than 400 days.
It might seem overwhelming, but there are a number of things that you can do to improve the outlook for kratom in the United States. None of these things will put you at risk, and they are all quite easy!
Buy From Qualified Vendors
One of the most important things that you can do is to only buy your kratom from qualified vendors that care about safety. To find these vendors, we recommend looking into the Good Manufacturing Practices Compliance Program run by the AKA. In response to the lack of clear guidelines around kratom, these companies have decided to comply with Good Manufacturing Practices in order to keep their customers safe and satisfied.
The AKA's GMP Program is that vendors can apply to join. The program outlines good practices that all kratom vendors should follow to ensure that the products they sell are as safe as possible for the consumer. To remain part of the program, they must have an annual 3r-party audit.
By buying from qualified vendors, you are supporting safe and high-quality kratom in the US.
Join Local Advocacy Groups
If you are living in a state that is considering a kratom ban, or the Kratom Consumer Protection Act, it would be worthwhile to get involved at the local level. Using the information available on the AKA website or from your local kratom shop, find out what you can do to prevent a ban from happening, or support reasonable regulations to keep yourself safe!
In many cases, this may be as simple as sending a letter to your local senator or making a short phone call. These actions are very small, but they can make a big difference in the long run!
Remember: Many People Use Kratom
Despite the complications in kratom's legal status, it is important to remember that kratom is gaining mainstream acceptance and credibility. Many states have even passed regulations that help to ensure that consumers are able to purchase safe kratom without fear of legal action.
Many people use kratom. There isn't a specific profile that can be used to describe who uses kratom or why. The simple fact is that there are many Americans that find that taking a serving of kratom helps them get through their day-to-day activities, and that is the important part.
AKA, the American Kratom Association, estimates that there are more than 15 million kratom consumers in the United States. That number is constantly growing, so there is no reason to feel like you are alone in your position.