When you start shopping around for kratom power, you'll know in seconds that there is a lot more to this botanical product than you might have originally realized!
While all kratom is known for its unique combination of alkaloids, mitragynine and 7-hydroxymitragynine, not every strain that we sell here at Left Coast Kratom has the same characteristics, uses, or look. Today, we're going to untangle the confusion that is Kratom strains.

Our full inventory of Kratom powder and leaf products contains many different strains; here is a complete list of what we currently offer!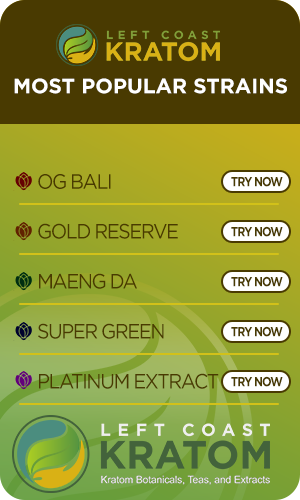 Maeng Da Thai Kratom
Maeng Da Thai Kratom is one of the most popular choices, but most people don't realize that is is a modified version of a less-popular kratom plant! The plant was first cultivated in Thailand and then Indonesia in an attempt to have a higher alkaloid content. The experiment was a success, and now Maeng Da Thai is one of the most sought after strains!

Here at Left Coast Kratom, we offer Maeng Da Thai Kratom in a few different forms:
These varieties are characterized by red veins on the leaves and are typically harvested from more mature trees. Regardless of which vein or product you end up with, it's fun to check out the different consumption methods for Maeng Da Thai Kratom products. You can try brewing tea with the leaf or powder and adding honey or flavorings to enhance the taste!
OG Bali Kratom
Kratom from Bali is one of the most well-known and popular types of kratom. In fact, it might be the most in demand kratom strain of them all! Because Bali has been a leader in kratom production for so long, many companies focus on this strain as their primary target. It's also a great strain for those who are new to kratom, making it a common first choice.

While the leaves on Bali kratom are generally darker than other strains, the veins can set apart three different types of Bali kratom: white, green, and red vein.

The two Bali products that we currently offer are the OG Bali Kratom Leaf and its counterpart, the OG Bali Kratom Powder.
Sumatra Kratom
Sumatra Kratom is a strain that has been around for thousands of years, but it has only started to grow in popularity in recent years.

Red Vein Sumatra Kratom powders like our Sumatra Kratom Powder (Red Vein) is one of our bestselling types kratom. Our powder contains an average of 1.3% mitragynine content and is from the islands of Indonesia.

White vein varieties like our Sumatra Kratom Powder (White Vein), on the other hand, are a great choice for those looking to switch up their typical kratom routine or try a new strain. Our powder contains an average of 1.4% mitragynine content.
Borneo Kratom
Borneo Kratom is probably one of the most prolific types of kratom. When searching for strain types, Borneo kratom shows up very frequently, and the information provided can be overwhelming as you are basically starting everything from scratch.

Left Coast Kratom currently carries these two Borneo products: Borneo Kratom Powder (Red Vein) and Borneo Kratom Powder (White Vein).

Thai Kratom
Thai Kratom powders, unsurprisingly, originate from trees that are native to Thailand. These leaves can be grown with different veins depending on the specific type of tree and where it is grown.

Here at Left Coast Kratom, we carry both red vein and green vein varieties of Thai kratom.

Our Thai Kratom Powder (Red Vein) is sourced from mature trees that have the red pinnate venation, leading to a reddish-tinted powder. The average mitragynine content is 1.3%. This blend has many fans among regular kratom consumers.

On the other hand, the Thai Kratom Powder (Green Vein) is sourced from trees that have veins that are green in the middle regions of the leaves. Still native to Thailand, this variety is usually harvested from younger trees.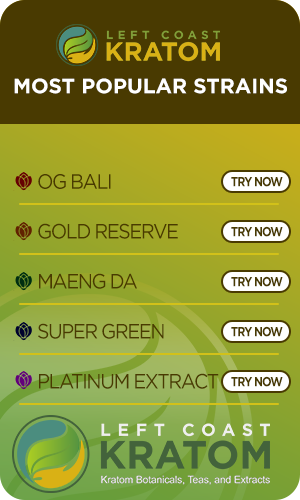 Other Kratom Strains
We have a number of other standalone strains that you may be interested in experimenting with as well.

Super Green Malaysian Kratom Powder is known to be one of the highest potency strains of Kratom on the market. Originating in Malaysia, our strain has an amazing average mitragynine content of 1.9%.

Kali Kratom Powder (Red Vein) is sometimes confused with Bali kratom powder, but this strain is from the Kalimantan region of Borneo. This balanced strain falls somewhere between the green and white veins.

If you are already getting overwhelmed by all the choices that we have available, you may be interested to try out some of our Kratom Powder Samples! These samples are just one gram, so you can invest in trying them out without a huge commitment. Find your new favorite with samples!

Next up, let's talk about the Red Dragon Kratom Powder. This relatively new strain is native to Thailand, and we have a very reliable supply source. Fans of Thai kratom and Red Maeng Da should give this one a try!

Finally, our last strain on today's guide is the Super Indo Kratom Powder. This strain from Indonesia is made from large leaves with high alkaloid content, so you can expect super high potency. Its balanced alkaloid profile indicates a well-rounded experience.
Which Kratom Strain Is Right For Me?
Now that you've been introduced to all of the strains that we have available here at Left Coast Kratom, you may be left wondering what strains are the best for you. Ultimately, it will depend some careful experimentation to find which veins and strains you prefer.

If you cannot narrow down your choice to one or two varieties to try for right now, we recommend using our Kratom Samples package to try out those that sound like they might be right for you. In time, you'll discover your favorite kratom strains!